Splashy blast from the past: Midwest Conference Outdoor Meet 1980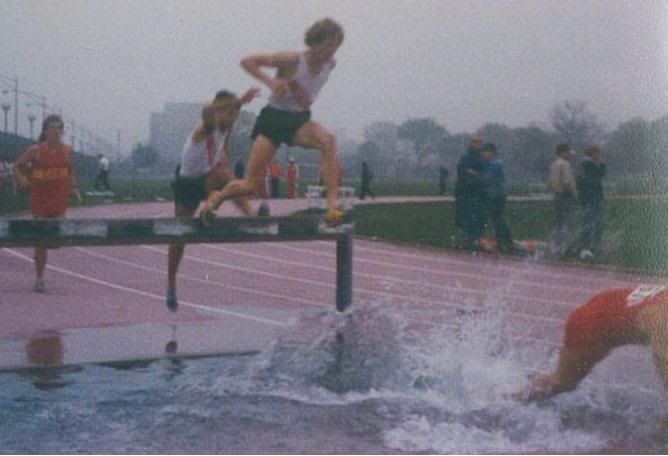 This was my last track race as a college runner, although I did run one more season of cross country the following fall.
The story behind this photo is proof of sorts of the adage (and classic Nike poster, when Nike was still cool) that the race is not to the swift but to those who keep running.
I didn't run in high school (rather just started at the very end), but went out for track my freshman year as a complete rookie. I started out sprinting, but soon moved onto middle distance running.
It was a slow start, and conference meet freshman year I got dead last, by a long margin, in the 880 yard qualyfing heats. Maybe a mild redemption in the mile the next day with a second to last place. By the next year I was a distance runner, and after showing some promise in the indoor 2 mile (sub 10) I ran the 3 mile outdoors. The transition wasn't smooth, however, and I ended up dead last (again) in the 1978 conference meet championships at University of Chicago.
I almost quit running after that.
Took a hiatus from track in 1979, and ski bummed in Colorado, but returned to Grinnell to finish up school.
Spring of 1980 was mostly disappointing, and I picked up "field house hack" after the second indoor meet and didn't shake it until May. I worked on the steeple chase about once a week for the outdoor season, but conference was the first time I was able to actually race 3000 meters over 28 barriers, including 7 water jumps.
My teammate Charlie (to my left in the photo), who had run in the Empire State Games in New York as a high school runner, boldly stated the morning of the race that he'd set the school record in the steeple at conference.
I had no idea what to expect, and fell to the back of the pack for three laps. This picture was at the start of the third lap, and I had just started moving up, when this runner from Coe College fell right in front of me. Somehow, I avoided a collision, and passed several more runners.
With a lap to go, I was suddenly in 3rd place. I started my kick a little too early, and almost fell on this water barrier on the final lap. A U. Chicago runner zipped by, and I stumbled home to hold onto 4th but got a school record.
A checkered track career, perhaps, but it was a nice way to wrap up college running--and better things would lie ahead.